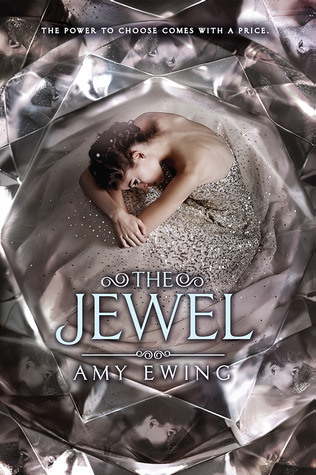 Blurb:
The Jewel means wealth. The Jewel means beauty. The Jewel means royalty. But for girls like Violet, the Jewel means servitude. Not just any kind of servitude. Violet, born and raised in the Marsh, has been trained as a surrogate for the royalty—because in the Jewel the only thing more important than opulence is offspring.
Purchased at the surrogacy auction by the Duchess of the Lake and greeted with a slap to the face, Violet (now known only as #197) quickly learns of the brutal truths that lie beneath the Jewel's glittering facade: the cruelty, backstabbing, and hidden violence that have become the royal way of life.
Violet must accept the ugly realities of her existence... and try to stay alive. But then a forbidden romance erupts between Violet and a handsome gentleman hired as a companion to the Duchess's petulant niece. Though his presence makes life in the Jewel a bit brighter, the consequences of their illicit relationship will cost them both more than they bargained for.
My rating:
2 of 5 stars
My Review:
I WANT to give it 1.5 stars but I'm going to be lenient and stick with 2.
Sigh. I had high expectations from this book simply because many people compared it with
The Selection
. Okay, now I'm well aware of the fact that The Selection was disliked by many, but to be honest, I absolutely loved that series. I think the execution was perfect and the story was beautifully put. HOWEVER, The Jewel was just...bland.
Violet Lasting is among the weakest protagonists I've come across so far. While Ms. Ewing tried hard to make her strong and willful and powerful, she was anything BUT THAT. I mean, COME ONNNNNNNNNNNNNNN, YOU HAVE BEEN GIVEN THE OPPORTUNITY TO DESTROY THE HORRIBLE RULE OF THE JEWEL AND FREE YOURSELF ALONG WITH ALL THE GIRLS WHO ARE GOING TO BE USED LIKE COWS AND THEN THROWN AWAY LIKE TRASH AND WHAT DO YOU DO?!?!
My frail resolve wavers. I think about what sort of person I want to be. I owe Lucien my life, and I will be loyal to him until the end. But Ash has nothing to do with that. Ash is separate, a part of my life that is just mine. There are things that are bigger than us, it's true. Saving the surrogates. Destroying the royalty. Is loving Ash worth the risk?
Ummm excuse me, but you don't just go all, "I'll be loyal to him until the end" and then disregard the dude who gave you this opportunity and start frolicking with a guy YOU'VE JUST MET A FEW DAYS BACK, thinking that you LOVE him. I mean, Lucien is putting his life at risk JUST so that he can save millions of surrogates like you, and despite being TOLD VERY CLEARLY that you're IMPERATIVE for the plan to work (God knows why He'd give such powers to a foolish weakling who can clearly not control her horny teenage hormones), you still think it's perfectly fine to risk everything so that you can be with Lover Boy, Ash. Are you an idiot, or what?
I would've been fine with the fact that she instantly gets attracted to Ash because she feels a certain connection to him but the thing is, the way the story was executed, it just felt like she would've "fallen in love" with ANY boy her age had he been good-looking and willing to talk to her which nobody does apparently because she's a lowly surrogate. The way she reacts to Garnet in the initial chapters clearly proves that.
"I saw the Duchess's son." A blush creeps up the back of my neck at the memory of the handsome boy and his disheveled appearance. "He doesn't seem anything like his mother."
Pretty sure if he bothered to speak to her, she would've "fallen in love" with him first. But then before that could happen, Ash enters. He looks at her like she's a normal human being and not an animal and POOF! She's instantly crazy about him.
They have sex a couple of weeks later and in spite of a Doctor CONSTANTLY checking up on her to see if she's ready for surrogacy, he doesn't figure out that she's recently had sexual intercourse with someone (which happens to be a serious offense that could get her executed). Nope, the so-called Doctor notices nothing. Lucky girl.
I also figured out the biggest suspense in the whole story pretty early
(view spoiler)
[Garnet is working with Lucien to overthrow the royalty and save all the surrogates. (hide spoiler)]
so when it was revealed like a cliff-hanger at the end, I felt no excitement or surprise.
I feel like the story had some potential but Ms. Ewing was unable to bring forth the pain and the anguish of the surrogates and everyone else under the rule of The Jewel. My only reaction was, "Bleh." for scenes which should have made me gasp in outrage about the unfairness of it all.
I barely felt anything throughout the book and mostly my thoughts were, "OMG don't do this, you're a strong protagonist!" "OMG don't do this, you were supposed to be a strong protagonist!" "OMG don't do this, you're so foolish!" "OM...oh, forget it, she's an idiot."
Overall, this book was a disappointment. I couldn't relate to Violet or any character in the novel, and I just felt that she was purposely made to do all the stupid things so the story could continue. I absolutely hate it when the story can only move forward on the basis of the weak character of the protagonist. I have a feeling that the second book will be better because this usually happens with books like these but I'm not sure if I want to read it or not.