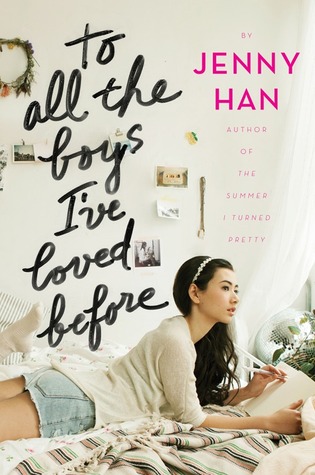 Blurb:
To All the Boys I've Loved Before is the story of Lara Jean, who has never openly admitted her crushes, but instead wrote each boy a letter about how she felt, sealed it, and hid it in a box under her bed. But one day Lara Jean discovers that somehow her secret box of letters has been mailed, causing all her crushes from her past to confront her about the letters: her first kiss, the boy from summer camp, even her sister's ex-boyfriend, Josh. As she learns to deal with her past loves face to face, Lara Jean discovers that something good may come out of these letters after all.
My rating:
4 of 5 stars
My review:
Oh my. This was SUCH a good book to read!
I remember that The Summer I Turned Pretty was among the first YA books I read when I initially started phasing out from my horror books obsession and honestly, despite the fact that I wasn't really fond of Belly in that story, I still finished the whole trilogy just because there's something about Jenny Hans' writing style. It coaxes you to read just one more chapter...and then another till you read to the point where you end up intrigued about the ending because you can figure that it's not gonna be the way you initially thought it might.
The exact same thing happened to me again with TABILB. The starting was incredibly slow and I couldn't enjoy the story because I kept getting distracted. However, things picked up as soon as Lara Jean's letters got delivered not-so-mysteriously (I mean come on, it was pretty obvious who did it)
Up until then, I was thinking her character to be kind of...bland. Man, was I wrong. As the story progressed, more and more I found myself actually relating to her. It's annoying but I cry just as much and just as easily as she did in the story. It was also the way she'd clam up and do something insanely stupid or crazy in front of her crush (like making up a pretend-boyfriend to save face)...yeah been there, done that.
So basically, even though she's fictional, I was kind of delighted upon reading about her antics so similar to mine even though, unlike me, Lara Jean lived with her heart on her sleeve which was part of the reason she got into all that mess in the first place.
The story caught on a pretty stable and enjoyable pace from there. Initially, I liked Josh but later on he just seemed like a huge wimp to me. Peter, on the other hand, stole my heart from the minute he graced the pages of this novel. There's just something about these confident guys, you know?
I was rooting for him but the best part was that till the end I wasn't sure who Lara Jean might choose. Her conflicting emotions were portrayed so well that it almost seemed normal. Oh yeah, she likes Josh, but of course she realizes later that it's actually Peter who she loves but then Peter's out of her league so now she's interested in John and so on… It seems pretty crazy put like this but the story was so in flow that I actually enjoyed myself while all this mess was happening.
Overall, the story was nicely executed, I believe. All the characters were fun and interesting and the relationship Lara Jean shared with her family was endearing. Although in the story, Margot, her elder sister, was put forward as the selfless one, to me it seemed that Lara Jean was the one who always considered her sisters' wishes and put them before her own. I found her younger sister to be a quite annoying, frankly so thank God I don't have siblings like that. However, the love which Lara Jean showered on everyone close to her was really sweet. I'm pretty sure I'm gonna start with P.S. I Still Love You ASAP because I can't wait to know what happens next.
If you're looking for a short, sweet summer read, I'd say go for this! However, I do think that people who aren't that fond of love triangles and/or a naïve, innocent female protagonist, won't exactly enjoy this book as much as I did!