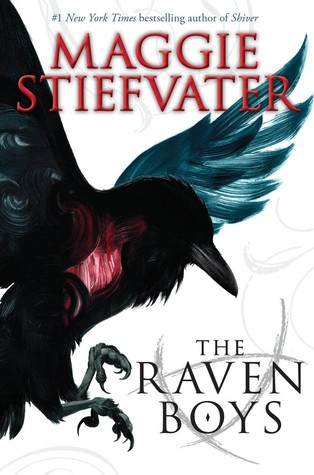 My rating:
3.5 of 5 stars
Blurb:
"There are only two reasons a non-seer would see a spirit on St. Mark's Eve," Neeve said. "Either you're his true love . . . or you killed him."
It is freezing in the churchyard, even before the dead arrive.
Every year, Blue Sargent stands next to her clairvoyant mother as the soon-to-be dead walk past. Blue herself never sees them—not until this year, when a boy emerges from the dark and speaks directly to her.
His name is Gansey, and Blue soon discovers that he is a rich student at Aglionby, the local private school. Blue has a policy of staying away from Aglionby boys. Known as Raven Boys, they can only mean trouble.
But Blue is drawn to Gansey, in a way she can't entirely explain. He has it all—family money, good looks, devoted friends—but he's looking for much more than that. He is on a quest that has encompassed three other Raven Boys: Adam, the scholarship student who resents all the privilege around him; Ronan, the fierce soul who ranges from anger to despair; and Noah, the taciturn watcher of the four, who notices many things but says very little.
For as long as she can remember, Blue has been warned that she will cause her true love to die. She never thought this would be a problem. But now, as her life becomes caught up in the strange and sinister world of the Raven Boys, she's not so sure anymore.
My Review:
Okay so frankly, the first half of the novel was boring. A lot of people praised this book so I was quite excited when I started it but it took me wayyyyyy too long to finish because my attention kept wavering every few pages. There just wasn't enough stuff happening to keep my interest for long and that should've been enough reason for me to drop the book except that I do not like to abandon books. It's like abandoning a puppy you don't find as adorable as compared to others in the litter. Just because it's quieter and less cuter than other puppies doesn't mean there isn't potential for it to grow into an amazing, beautiful, loyal dog.
Sorry I can't really think of any other simile because I'm missing my own dog too much right now (he's a Lhasa Apso and he's a darlingggg, though a little spoilt.)
Anyway, my point is The Raven Boys grew into a wonderful dog/book/story/youknowwhatImean.
I was at 52% completion of the book (I think) when I actually FELT the change. From the monotonous, shifting POVs, suddenly, things actually started happening and I stopped minding the shifts as the story became more action packed and the characters started showing some more..well, character. This is right about the time Blue decides to defy her mother and go on the helicopter ride with Adam and the others. I say others, because Gansey really wasn't an important OR interesting character till then and seemed just as irrelevant as Ronan, Noah and everybody else.
I couldn't see the point of dragging the story so much and it just felt like the only real content the author had was so less that she had to put in unnecessary sentences in the middle of the chapters for the first part just so that she could turn it into a book instead of a short story.
Nevertheless, the second half of the book was admittedly pretty awesome and it just kept getting better till the end. There was more action and some mystery elements as well, related to the identity of Neeve, Whelk and another character which I'm not going to name because that was a BIG surprise for me and completely got me hooked to the book. Gansey also started showing signs of being a real normal human being instead of some rich, stoic dude with an identity and existential crisis.
"If you're going to embarrass me, I'll throw you out and fly myself," Gansey said from the seat beside her. This was not a true threat. Not only would he not push Helen out at this altitude, he wasn't legal to fly without her"
His dig at Helen, his sis, and this scene in general made me laugh. I mean, there was some real consideration behind that thought. "Oh shit, I can't really do that because you know I'm not legal to fly this thing without my sister if I push her out right now. Oh and yeah she might die but the more important point is
truth be told, he wasn't very good at flying a helicopter, despite several lessons
"
...it seemed such a sibling-y thought and consideration that this became the part where I started paying more attention to Gansey. Honestly, he seemed like a very motivated robot before.
I could imagine Blue and Gansey together and Blue also started growing on me even though initially I had thought that maybe I wouldn't end up liking her after all, especially because she wanted to keep Gansey's journal to herself and just assumed that it belonged to Adam. However, she proved my assessment of hers to be wrong in the end and actually turned out to be quite captivating.
The writing style also improved a lot in the latter part of the book and I genuinely wanted to know what happens next and how exactly the ley lines work and everything else as the story progressed.
I think I should have given this book three stars because one part was bad and the other part was good so it evens out to be okayish but the thing is that the second part was extremely riveting. It pulled me into Henreitta and Cabeswater and the corpse road. It made me want to expperience the power of the magical willow tree and search Glendower. It was more than good. It was excellent. And so, I want to continue this series and see if the next book can do better than 3.5 stars. (Dream Thieves, here I cooooooooomeeeeeee)
Seriously though, if you're the type of person who requires instant gratification of your thirst for good reads, I wouldn't recommend The Raven Boys to you. However, if you're patient and are looking for something new related to the paranormal YA genre, I'd say go for this. New concepts are really hard to find and Stiefvater still managed to do it.